[M O N D A Y | January 16]

Tuesday, January 17, 2017, 6:30pm



LOCALS NIGHT feat. ROEM BAUR (2 SHOWS!) @ Blue Note | Roem Baur is a multiple award-winning touring songwriter and San Francisco resident. He has been featured on the main stage at Super Bowl City, NBC's The Voice, and at CES & SXSW conferences. A classically trained opera singer, he answered the call of rock n' roll shortly after college and began touring living rooms, cafes, and small clubs with "a voice that seems to burn with fire" (Examiner) before forming his band and releasing his first studio EP with GRAMMY nominated producer, Damien Lewis (Rihanna, Capital Cities, Kimbra).

After winning Bob Weir's (The Grateful Dead) national "Road to TRI" contest, Baur and his band were invited to record a live EP in Weir's personal studio, the product of which can be found on Roem's YouTube page and has since propelled him to a whole new era of rock fans. In June of 2016 he released his most personal work, "Night Phases," that has been praised by music bloggers and critics as one of the best releases of the Summer.


Contact:

Cost: $10/20 (6:30&9pm)
[W E D N E S D A Y | January 18]

Wednesday, January 18, 2017, 6:00pm


Trio Solea Live @ Uva Trattoria | (Spanish, Latin Jazz) Trio Soleá has been making beautiful guitar music in the wine country for more than 10 years. Ken Kunst and Bo Martin have helped make Trio Soleá a favorite for all kinds of events. They combine Flamenco guitar techniques with Latin rhythms to produce an elegant, exciting, and exotic music. Trio Soleá has performed at the Napa Opera House, The Mondavi Summer Concert Series, and numerous weddings and winery events. Their sound goes well with the wine country lifestyle, and they enjoy many happy customers.Recently moved to Napa, Sirirat Martin "el Bo" (Guitarist and Engineer) began playing guitar at the age of thirteen in Thailand, following in the footsteps of his brothers and uncle. He learned to play guitar by listening to records and studying various method books. After coming to the United States, he studied flamenco guitar with Augustine Rios, David Brewer and attended workshops given by Canitos, Chuscales and Jason McGuire. Prior to forming Trio Soleá with Ken, he performed in various local bands in Marin including his own trio. Considering himself a recording artist, he concentrates his talent on developing his writing, composing and engineering skills.
Contact:
www.uvatrattoria.com
Uva Trattoria
1040 Clinton Street, Napa
707.255.6645
Cost: No Cover!
Wednesday, January 18, 2017, 7:00pm

Blue Note Napa Presents Amendola vs. Blades feat. Scott Amendola & Wil Blades | "The breadth of what we do is so wide we don't have to think about it," says longtime Bay Area drummer Scott Amendola, when talking about fellow local organist Wil Blades--the other half of the dynamic music duo known as Amendola vs. Blades. "The cool thing is we can play swingin' old school jazz, funk and rock, African music, to playing free." Such dynamic range would prove challenging for any band, let alone one consisting merely of eight limbs, two analog keyboards and a drum kit. But it's a challenge the two friends have eagerly met gig after gig since their auspicious first show together, a performance of Duke Ellington's "Far East Suite" as an organ and drums arrangement, ten years ago. "It's all about keeping it fresh," adds Amendola. "And keeping the audience engaged." And keeping audiences sonically freshened and engaged throughout their ever-evolving decade-long stint hasn't been a problem for this uncanny duo, who've imprinted plenty of nondescript juke joints: the High Sierra Music Festival, SF Jazz, and the iconic Fillmore, alike with their slithery sound, enough to make stalwart critics like the SF Chronicle's Joel Selvin squawk: "As for Wil Blades and Scott Amendola, these two Young Turks of the San Francisco jazz scene are bringing the organ-drum duo into the 21st century."





Contact:
Blue Note Jazz Club Napa
1030 Main Street, Napa
707.603.1258
Cost: $10/15/20
[T H U R S D A Y | January 19]

Thursday, January 19, 2017, 6:30pm


Smokin' Joe + Steelhead - Three on a Match @ Uva Trattoria | Groove to the blues of Smokin' Joe Herrschaft, a Sonoma songwriter, vocalist and harmonica player, and Paul "Steelhead" Christopolous on National slide guitar, as they play original and traditional Delta blues!

Together since 2006, they have covered many genres and artists, as well as producing original songs. Some material that they have been known to cover is that of (early) Howlin Wolf, Rolling Stones, Mississippi John Hurt, Bob Dylan and Sonny Boy Williamson. Although primarily a duo, the team has been known to beef up the roster with a drummer and/or bass player on occasion!


Contact:
www.uvatrattoria.com
Uva Trattoria
1040 Clinton Street, Napa
707.255.6645
Cost: No Cover!
Thursday, January 19, 2017, 7:00pm

Blue Note Napa Presents Amendola vs. Blades feat. Scott Amendola & Wil Blades | "The breadth of what we do is so wide we don't have to think about it," says longtime Bay Area drummer Scott Amendola, when talking about fellow local organist Wil Blades--the other half of the dynamic music duo known as Amendola vs. Blades. "The cool thing is we can play swingin' old school jazz, funk and rock, African music, to playing free." Such dynamic range would prove challenging for any band, let alone one consisting merely of eight limbs, two analog keyboards and a drum kit. But it's a challenge the two friends have eagerly met gig after gig since their auspicious first show together, a performance of Duke Ellington's "Far East Suite" as an organ and drums arrangement, ten years ago. "It's all about keeping it fresh," adds Amendola. "And keeping the audience engaged." And keeping audiences sonically freshened and engaged throughout their ever-evolving decade-long stint hasn't been a problem for this uncanny duo, who've imprinted plenty of nondescript juke joints: the High Sierra Music Festival, SF Jazz, and the iconic Fillmore, alike with their slithery sound, enough to make stalwart critics like the SF Chronicle's Joel Selvin squawk: "As for Wil Blades and Scott Amendola, these two Young Turks of the San Francisco jazz scene are bringing the organ-drum duo into the 21st century."
Contact:
Blue Note Jazz Club Napa
1030 Main Street, Napa
707.603.1258
Cost: $10/15/20
Weekly Live Music...
Bluegrass Jam @ The Pizza Hut. Led by The CA Bluegrass association president Pat Calhoun, starts at 7
Thursday Night Drumming Circle with Art Cavagnaro at Napa Glass
Karaoke at Ana's Cantina in St. Helena

Friday, January 20, 2017, 8:30pm


Fundz Jazz @ Uva Trattoria | Fundz Jazz is a group of talented San Francisco Bay Area musicians that have performed together in a wide variety of musical ensembles over the last 20 years. They come together in Fundz Jazz to perform some of their favorite jazz and R&B compositions from the last six decades.

Fundz Jazz features: John Xepoleas on drums; Mike Williams on guitar;Marc Levine on bass; Dave Scott on Trumpet and Chris Cole on Vocals. The repertoire includes classic compositions by Miles Davis, Herbie Hancock, Horace Silver and Duke Ellington, as well as vocal gems by Frank Sinatra, Marvin Gaye, Tony Bennett, Van Morrison, Michael Buble and Peter Gabriel.

World Class musicianship and a Crowd Pleasing attitude makes Fundz Jazzthe ideal choice for your restaurant, nightclub or special event jazz entertainment.


Contact:
www.uvatrattoria.com
Uva Trattoria
1040 Clinton Street, Napa
707.255.6645
Cost: No Cover!
Friday, January 20, 2017, 7:00pm

Blue Note Napa Presents Michael Lington |

A visionary, and a dreamer, Michael Lington thinks outside the box whether it is in music or other areas of life.


Contact:
Blue Note Jazz Club Napa
1030 Main Street, Napa
707.603.1258
Cost: $25/35/45 7 & 9:30pm
[S A T U R D A Y | January 21]

Saturday, January 21, 2017, 8:30pm


Juke Joint Band @ Uva Trattoria | Juke Joint is an experienced six-piece "horn" band playing Memphis Soul and R&B, a shimmering, sultry and funky style produced in the 1960s and 1970s at Stax and Hi Records in Memphis, Tennessee, featuring soulful vocals, dynamic horn lines, tasteful guitar, and a driving beat by the drums and bass. We flavor ours with some blues harp as well!

Juke Joint plays the music of James Brown, Otis Redding, Wilson Pickett, Ray Charles, Sam & Dave, Al Green, Cannonball Adderly, Horace Silver, Little Milton, Louis Jordan, Albert Collins, Muddy Waters and many, many more Soul, R&B, Blues and Jazz greats!


Contact:
www.uvatrattoria.com
Uva Trattoria
1040 Clinton Street, Napa
707.255.6645
Cost: No Cover!
Saturday, January 21, 2017, 7:00pm

Blue Note Napa Presents Michael Lington |
Contact:
Blue Note Jazz Club Napa
1030 Main Street, Napa
707.603.1258
Cost: $25/35/45 7 & 9:30pm
[S U N D A Y | January 22]

Sunday, January 22, 2017, 8:30pm

The Gentlemen of Jazz @ Uva Trattoria | The Gentlemen of Jazz, acoustic bassist Tom Shader and pianist Ross Gualco, perform elegant renditions of the "Great American Songbook" (Gershwin, Porter, Ellington, Jobim, etc.). Their extensive knowledge of the genre allows them to honor virtually any request while their musical virtuosity allows them to interpret these great classics with excitement and sensitivity.


Contact:
Uva Trattoria
1040 Clinton Street, Napa
707.255.6645
Cost: No cover
Tom Duarte @ Uva Trattoria | Jazz, Latin, Flamenco!

Duarte's musical style is firmly based in traditional Latin music, while referencing elements of funk and jazz fusion. His playing remains beautiful and communicative throughout, reflecting a true sense of the gypsy spirit. In his solo acoustic playing, as well as in his searing electric solos, he plays with a passion that equally captivates the listener.


Contact:
www.uvatrattoria.com
Uva Trattoria
1040 Clinton Street, Napa
707.255.6645
Cost: No Cover!

Wednesday, January 25, 2017, 6:00pm


Le Hot Jazz @ Uva Trattoria | Jazz with a French twist Le Jazz Hot duo featuring Isabelle Fontaine on vocals.

Isabelle Fontaine was born and raised in the French countryside with the voices of Edith Piaf, Charles Trenet, and Yves Montand ringing in her ears. She originally had no intention of becoming a professional musician but when she started singing with a group of friends for fun, her talent was immediately recognized and her life took an unexpected turn. She spent the next twenty years singing and playing the snare drum to the jumping jive music of the 50's throughout France, with detours to Spain and over the Alps to Switzerland. In 2004 she moved with her family to the Bay Area and has since become highly sought after not only as a vocalist but also as a rhythm guitar player. During this period, she developed an unconditional love for the Ladies and the Dukes of the Big Band Era and was eventually drawn to the gypsy swing of Django Reinhardt and The Hot Club of France. It wasn't long before she picked up the guitar and applied her impeccable sense of rhythm to the stringed instrument.


Contact:
www.uvatrattoria.com
Uva Trattoria
1040 Clinton Street, Napa
707.255.6645
Cost: No Cover!

Thursday, January 26, 2017, 6:30pm


The Beach Boys | You can capsulize most pop music acts by reciting how many hits they've had and how many millions of albums they've sold. But these conventional measurements fall short when you're assessing the impact of The Beach Boys. To be sure, this band has birthed a torrent of hit singles and sold albums by the tens of millions. But its greater significance lies in the fact that it changed the musical landscape so profoundly that every pop act since has been in its debt.

The Beach Boys are led by Mike Love and Bruce Johnston, who along with Jeffrey Foskett, Brian Eichenburger, Tim Bonhomme, John Cowsill and Scott Totten continue the legacy of the iconic American band. This tour will not feature Brian Wilson, Al Jardine or David Marks.

Happily for us all, The Beach Boys continue to create and perform with the same bold imagination and style that marked their explosive debut over 50 years ago. And now in 2013, their Capitol Records release, Sounds of Summer (RIAA certified triple platinum with over three million in sales and climbing), and it's companion The Warmth of the Sun marks a resurgence in Beach Boys interest that has again rocked the world.

Captained by Mike Love, The Beach Boys play an astoundingly busy schedule of concerts, averaging 150 shows a year, ranging from sundrenched summer festivals to gala New Year's celebrations and special events worldwide. In 1974 Mike Love's concept album Endless Summer ignited a second generation of Beach Boys fans and stirred a tempest that rocked the music world.

Grammy-winning songwriter Bruce Johnston, [Barry Manilow's "I Write the Songs"], joined The Beach Boys in 1965, replacing Glenn Campbell, who filled-in for Brian Wilson, on vocals/bass, when he retired from touring. Highly regarded as a singer-songwriter, Johnston's vocal work with such legendary artists as Elton John and Pink Floyd firmly established him among rock's elite artists.Had this remarkable band been less committed to its art and its fans, it could have retired from the field with honor at dozens of points along the way, confident that it had made a lasting contribution to world culture. It could have rested on the success of the epoch-shifting Pet Sounds masterpiece in 1966 . . . or after recording Love's co-written Golden Globe nominated "Kokomo" in 1988 and seeing it become its best selling single ever . . . or after being inducted that same year into the Rock & Roll Hall of Fame . . . or after watching its worldwide album sales blow past l00 million . . . or after winning the NARAS Lifetime Achievement Award in 2001 [along with The Who, Bob Marley, Tony Bennett, Sammy Davis Jr. and Les Paul]. And still, The Beach Boys continue to have fun, fun, fun, with no end in sight.

In 2012, The Beach Boys scheduled a 74 concert date limited 50th Anniversary Reunion Tour which was scheduled as a limited run reunion tour and ended in the U.S. July 15 and internationally on Sept 28th in which the original members reunited and released "That's Why God Made the Radio," the album debuted at # 3 on the Billboard charts, their highest chart position in 37 years and an unprecedented milestone.


Contact:

Cost: $115/90/75 Age: 12+ (under 16 with adult)

Saturday, March 11, 2017, 7:30pm

N E X T W E E K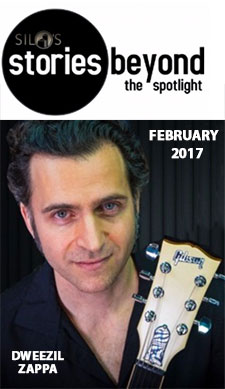 /*
*/