Thursday, June 14, 2018, 5:00pm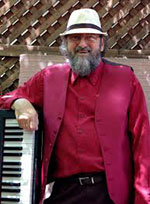 Mike Greensill - Evening Jazz @ Silo's | Join us for an evening of music history, storytelling, and friendship with nationally acclaimed pianist Mike Greensill, who brings his brand of up close and personal performances to the Silo's stage. Immerse yourself in The Great American Songbook, with classic tunes ranging from Gershwin to Fitzgerald and everything in between, and walk away with a swing in your step and a clearer insight into the history of American songwriting.

After graduating in 1972 from Leeds College of Music in England, Mike toured Europe and the Far East and lived in Hong Kong for 4 years before finally settling into his adopted home, San Francisco, in 1977. Well known in his role as musical director to acclaimed vocalist Wesla Whitfield with whom he has recorded twenty albums, Mike is also resident piano player on Sedge Thomson's weekly Public Radio show to the world, "West Coast Live" - more info at wcl.org. Mike can also be caught playing jazz with his trio in many a Bay Area saloon and jazz club.


Contact:
Silo's Napa
530 Main Street, Napa
707.251.5833
Cost: No Cover!